Submitted by
Anonymous (not verified)
on Fri, 08/14/2015 - 11:03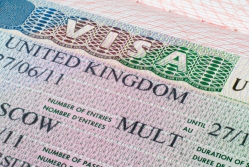 UK businesses that employ people from overseas have been warned by immigration minister, James Brokenshire, that they will be "hit from all angles" if those workers have no legal right to work in the UK.
In this latest government crackdown, businesses operating in the construction, cleaning and care sectors in particular will be targeted in new raids and checks. All firms are advised to carry out the necessary checks before employing people.
In a recent interview he gave to The Times Brokenshire said: "Rogue employers who give jobs to illegal migrants are denying work to UK citizens and legal migrants and helping drive down wages.
"Experience tells us employers who are prepared to cheat employment rules are also likely to breach health and safety rules and pay insufficient tax. That's why our new approach will be to use the full force of government machinery to hit them from all angles and take away the unfair advantage enjoyed by those who employ illegal migrants."
Shadow home secretary, Yvette Cooper, responded: "If the Government were really serious about tackling employers who are exploiting illegal working and immigration, they should have supported Labour plans to extend gangmaster laws, make serious exploitation of workers a criminal offence and strengthen enforcement of housing overcrowding. When they had the chance to support these proposals, they didn't.
"Exploitation hurts everyone – those who are working hard and being exploited, other workers whose pay and jobs are undercut, and responsible employers who are undermined.
"Action to identify employers exploiting illegal working is important, but the Government should still do more to target serious exploitation and undercutting, some of which is effectively modern slavery – they should extend the Gangmasters' Licensing Authority and make exploitation a crime."
As reported by the CIPD, the professional body for HR and people development, one in six workers (4.8m) in Britain is now from overseas and 1.9m of them have moved to the UK from other EU countries (source: Office for National Statistics). The number of foreign workers has risen dramatically in the past two years – as much as 60% in some parts of the country according to the Department for Work and Pensions. But the proportion of workers from overseas who are in the UK illegally is not known. The London School of Economics estimates 618,000, but campaign group Migration Watch puts the figure closer to 1.1m.