Submitted by
Anonymous (not verified)
on Fri, 08/14/2015 - 11:04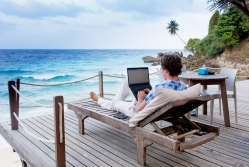 Research by employment law consultancy Peninsula suggests just how hard many small-business owners and managers find it to fully switch off while on holiday.
According to Peninsula, more than three quarters of owner-managers admit to responding to work emails while away on holiday. Two thirds (66%) of respondents also admitted to speaking to someone back at base at least once a day while on holiday. And more than half (58%) have had an argument with their partner on holiday as a result of work-related emails or phone calls.
Alan Price, HR director of Peninsula, said: "Clearly it's very difficult for bosses to switch off from work while on holiday. However, it's essential for them to recharge their batteries and it's a perfect opportunity to allow other members of staff to prove themselves while you are away. People go on holiday for a reason – to recharge their batteries – so calling into the office or responding to work emails is not a good use of your time."
But Price does not believe that all thoughts of business should be abandoned altogether. "Being on holiday can provide a good opportunity to take stock of how your year is going," he explained, "especially as you'll have a fresh perspective on projects because you are away from the office."
Price said senior people within the business being away on holiday allows other team members to shine, as long as you brief them properly and fully delegate responsibility. He added: "The last thing they need is someone challenging their decisions; they should be afforded trust and be left to their own devices to manage while you're away.
"Taking some quality time to go on holiday provides us with much needed rest, recharges our mind, allows other team members to prove themselves, so switch off and enjoy your holiday."
Much worse than not fully switching off while on holiday is not taking any holiday at all. A 2014 OnePoll survey conducted on behalf of (online accounting software provider) Xero found that 76% of small-business owners have sacrificed their holidays to ensure their business continues to run smoothly, while one in five admitted to not taking any time off for a holiday.